Online meetings have become an integral component of the evolving hybrid work model, distance education, and remote work systems.
Various artificial intelligence tools are now available to enhance the productivity of these meetings in the business realm, academia, and everyday life. These tools not only offer the capability to record conversations but also assist in taking organized notes, making these virtual interactions even more effective.
6 Artificial Intelligence Tools That Will Be Most Useful in Meetings
TLDV
Otter A.I.
Noty A.I.
FireFlies AI
airgram
fathom
---
1.TLDV
One of the leading artificial intelligence tools designed to enhance your online conversations, as well as to record and document them, is TLDV!
Often abbreviated as 'tl;dv' in various contexts, this tool leverages artificial intelligence to generate practical meeting notes. It's versatile enough for everyday use and professional settings alike.
With GPT integration, TLDV enables users to record an entire conversation with a single click, making it effortless to transcribe Zoom interactions. An added perk is its transcription capability, which caters to 20 different languages.
For those who use Google Meet along with Zoom, TLDV has got you covered. Start off with its complimentary plan, and if the need arises, there are Premium packages available for an enhanced experience.
---
2.Otter AI
As an artificial intelligence tool that transforms voice recordings into text, it serves as a handy assistant for meetings.
Once it transcribes the spoken content from the meeting, you have the flexibility to generate documents and edit them at your convenience.
It's particularly beneficial for students, streamlining the process of turning online lessons into study notes. Similarly, for professionals, it's an excellent tool for recording and transcribing interviews.
---
3.Noty AI
As the name implies, Noty AI is an artificial intelligence tool designed to assist you in note-taking during meetings.
Not only does Noty AI allow you to derive concise and quality summaries from extensive texts, but it also accelerates your review process.
By highlighting crucial details that might otherwise be missed, it ensures a more efficient analysis of the content you're examining.
---
4.FireFlies AI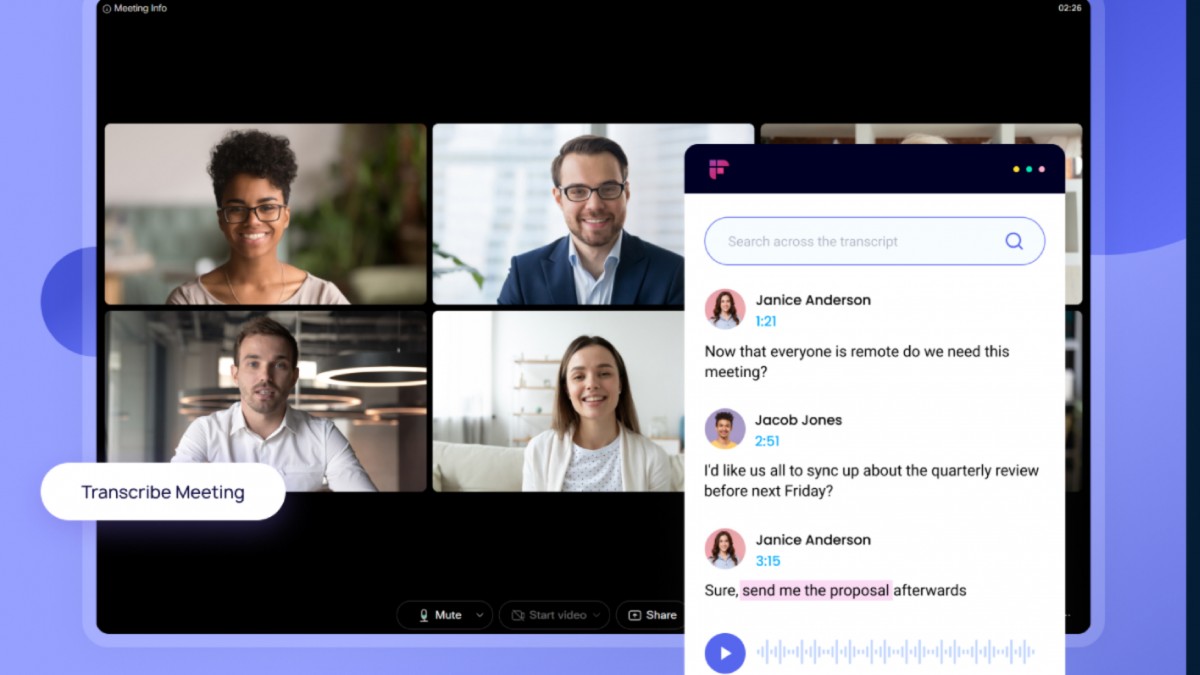 FireFlies is an application primarily centered on transcribing voice recordings into text. With its assistance, you can craft meeting notes, pinpoint crucial and recurring topics, and generate comprehensive reports of meeting discussions.
The texts created with FireFlies are editable, allowing you to format them as desired. Beyond meetings, FireFlies AI can be a valuable tool for transcribing content from online courses, interviews, and individual sessions.
---
5.Airgram
Airgram is an AI-powered tool designed to let you focus entirely on your meetings. It handles tasks such as summarizing, taking notes, sharing meeting insights, and recording, all while transcribing the proceedings for you.
Available for free registration, Airgram seamlessly integrates with platforms like Microsoft Teams, Google Meet, and Zoom.
The free tier allows users to record up to five meetings a month, with each meeting capped at 30 minutes. However, by opting for a paid subscription, users can extend recording times up to 5 hours and enjoy unlimited meeting recordings.
---
6.Fathom
Fathom, best described as an AI-enhanced meeting assistant, seamlessly integrates with platforms like Zoom, Google Meet, and Microsoft Teams, much like its counterparts.
This AI tool, available for free registration, not only records your discussions but also highlights and summarizes key points, generating the necessary summaries and transcripts.
While Fathom is suitable for individual tasks, its newly introduced 'team edition' service offers expanded collaborative opportunities.
Using Fathom to swiftly share meeting notes within a team means your primary concern is solely the ongoing conversation. Fathom efficiently handles the rest for you.